Built upon Paras marketplace,
Paras Comic
is here to add layers to NFTs through a new medium;
comic
.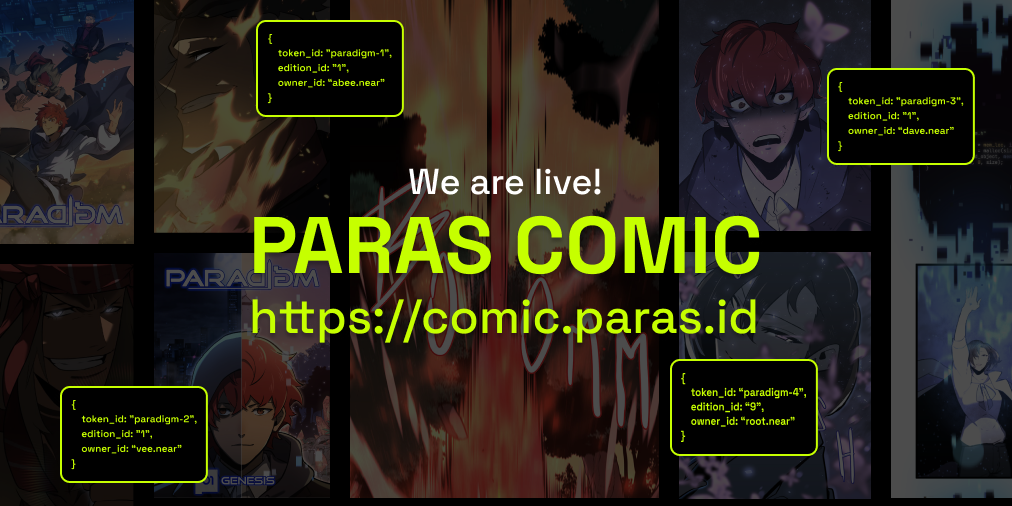 As crypto-native IP, all comics are published with NFTs technology and smart contract capabilities. We enable open interaction between collectors and authors.
We believe that digitized comics are our effort to preserve comic books for collectors and introduce titles to bigger audiences. By integrating digital comics into the Web 3.0 space, we aim to improve the experience massively.
All owners are validated.

Exclusive community and open interaction

Unique experience through NFTs collectibles
We commit to our vision: Paras comic is tailored to the writer's needs where comic enthusiasts can read, own, and support digital comics. We are ready to develop and support your comic project.
Join and create with us now!
🔥 In celebration of the Paras Comic launch, we publish our first comic, "
PARADIGM
". Discover the characters' adventure and join their risky endeavors in desolate and sequestered lands. The first three chapters of the comic are FREE, read now HERE
If you want to know more about Paras comic, please kindly read the FAQ here.
Follow Paras social media for more updated information:
Twitter
Instagram
Discord
Telegram