Publication > editorial > November Card4Card is Already Here!
November Card4Card is Already Here!
November has been a blessing for Paras, and we've never forgotten to thank our community 🤗.
Let's take this chance to keep supporting and growing our community by joining Thanksgiving's #Card4Card where you can swap and sell high edition NFTs at low prices!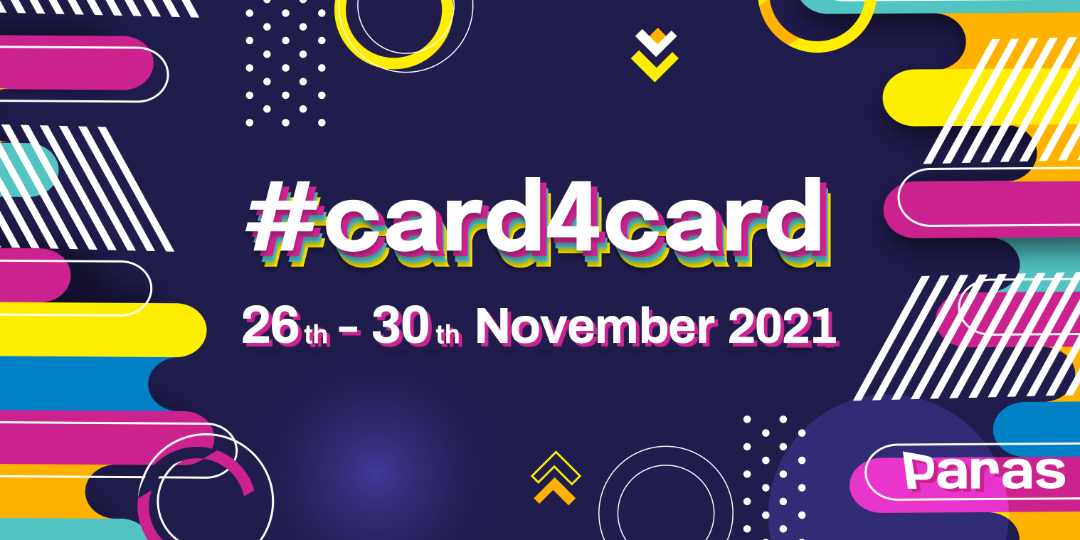 Recommended: Mint 100 (or more) editions of an artwork. Something fresh from the oven or even your old collections are welcome!

Set the card price to 0.01 - 0.5 NEAR. The idea is to make it inexpensive, so it feels like a big group trade.

On the 26th of November, you MUST set the card you minted to the "Card4Card Nov" category so that it can appear under the Market tab.

Use hashtag #card4card to share your cards on Twitter & other social media. By creating a big buzz, you can enjoy promoting your cards & making connections.
i. We encourage you to create art with Thanksgiving themes.
ii. Don't mint an art that you've already minted elsewhere.
iii. Set your cards to be NOT FOR SALE if you mint the art before the event starts and/or until your art is accepted on the "Card4Card Nov" category.
If you're going to collect the cards from your fellow artists, DO NOT collect more than 1 of each piece! If you do, we will disqualify you from future events.

BURN the remaining supply after the event ends. The idea is to create a card exclusively for the card4card event, which may increase the after-sales.

Set the royalty to your benefit so that you will still get the royalty fee if your art is sold. Be wise with it.
🎁 SPECIAL PRIZES FOR 20 SPECIAL PEOPLE!
300 NEAR in the prize pool for the top 10 collectors! 🎨
200 NEAR in the prize pool for the top 10 creators! 🧩
The prize will be distributed 1 week after the event ends.
If you're not yet an artist on Paras, claim your aliases on wallet.near.org & mint your first NFTs. You can apply for artist verification here.
PARTICIPATE IN NOVEMBER'S CARD4CARD & ENJOY THE FUN!
INVITE YOUR FRIENDS TO JOIN THE FUN, MAKE FRIENDS, AND ATTRACT COLLECTORS TO THE PLATFORM!